The Vermont Daughters of the American Revolution invite you to visit this 200 year old home of a Revolutionary War Patriot and his family.

Experience one of Vermont 's most important 18th century homes –
a masterpiece of Federal architecture.

See period room displays and hear the story of a Colonial family's life in the northern wilderness.Tours:The John Strong Mansion will be open in 2023 on Saturdays, Sundays, and holidays from 11 am to 3 pm, Memorial Day through Labor Day weekend.Weekday or large group tours may be scheduled by email from mid May until October subject to tour guide availability. Email ADMISSION
Cash, or use this link to pay by credit card or PayPal.
​
Adults $5; Seniors and Students $3; Families $10
All fees are used for the preservation of the Museum

DAR John Strong Mansion Museum

6656 VT Route 17 W
Addison, VT 05491-8893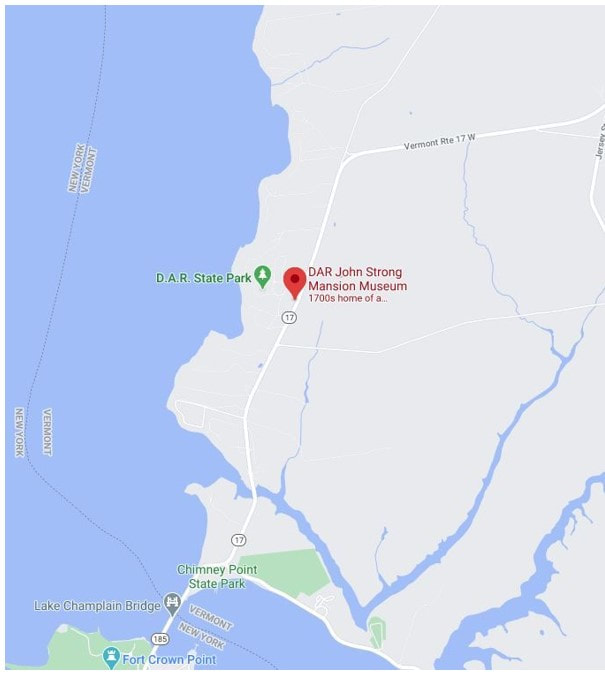 About the VSSDAR
Visit the State Society, Daughters of the American Revolution website:
VSSDAR
Rent this Historic Venue for your next event!
Rent this beautiful venue for your next event: anniversary parties, wedding receptions, graduation parties,
family reunions. Available weekends from Memorial Day until the middle of September. Special arrangements may be made for other dates.
Reservations and more information are available at:
Email
Telephone:
(
802) 759-2309